PHOTOGRAPHIC PRINTING
Bleed is the amount of space needed to print from edge to edge without a white border.
Full Bleed= Edge to Edge printing
For single page photographic prints: machines allow for a slight difference in print sizes and alignments by overlaying your image over the paper to avoid having a white border. The problem with this is you can lose a good portion of the edge of your layouts. If your layout has a thin border, the border can appear uneven or completely gone on one or more edge.
Our goal, at Persnickety, is to print your image centered evenly with as little overlay as possible. You can be confident that your image will appear as expected as our trim is less than 1/16 of an inch.
For Example, Molly Weight printed her layouts at "another printing place" before she found Persnickety Prints. Molly created this double page 12x24 spread in Photoshop, printing each 12x12 separately.
Here is what her layout looks like on her screen
And here is what she got from that "other printing company" ...
We used the EXACT same file and reprinted this layout for her on our machines, and with our professional personal expertise, you can't get better than this!
Print comparisons are difficult to do by taking a picture of a picture, but hopefully this post will help you get the gist of it!
Also, if you look real close, you may see difference in sharpness and clarity too.... just sayin!
Remember, this bleed/trim reflects our single page prints.
Prior to printing, we move, align, and adjust each layout on a computer monitor. We then inspect each print AFTER it is printed. If we don't get it right, we print it again.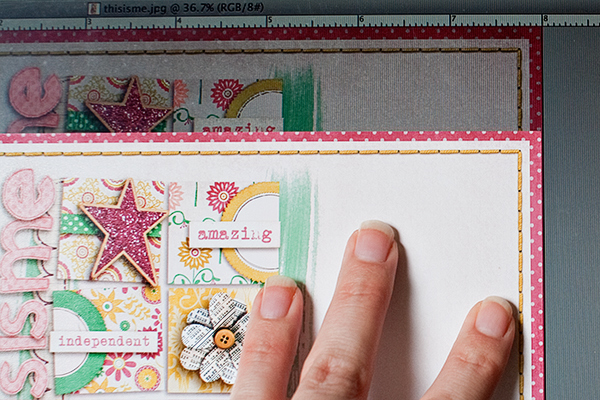 ---
PRESS PRINTING BLEED
Double Sided and Fine paper prints are NOT printed edge to edge, therefore require .25" added bleed for trimming.
4x6 card must be designed at 4.25x6.25
5x7 card must be designed at 5.25x7.25
This email address is being protected from spambots. You need JavaScript enabled to view it.